BABB – the decentralised bank for the microeconomy
BABB is the decentralised bank for the microeconomy, providing individuals and businesses with a UK bank account, powered by blockchain technology. The account is managed via a smartphone app and provides access to a decentralised payment card. In addition, partnerships with central banks allow for the integration and issuance of
other digital currencies around the world, further stimulating local micro-economies and expanding the reach of the BABB solution and its underlying BAX token. BABB is already an FCA Authorised Payment Institution (API) and will be applying for a Banking licence in early 2018. Many energetic startup companies with bright ideas and ambitious plans have sought to better serve a segment of the unbanked, the underbanked or the underserved people of this world. For the most part, they've attempted this using existing structures, templates, infrastructure and technologies. The progress made so far, by the fintech industry and financial inclusion initiatives, has been promising but limited. BABB's approach is different. BABB will redesign the economy from the ground up, transforming it from a rigidly hierarchical and exclusionary system into a decentralised and inclusive one. By combining blockchain technology, biometrics and artificial intelligence, they are creating the future of banking, radically different from what the world has seen before.
SEPA & UK Faster Payments
With your UK BABB account, you will experience seamless transition between legacy banking and your blockchain based bank account. In addition to the usual cryptographic address, BABB Accounts are issued an IBAN for european and international bank wires, as well as an Account Number and Sort Code for UK national transactions.
This will allow funds to be onboarded and off-boarded directly into the banking infrastructure, to maximize the usefulness of your BABB account. This is the primary bridge through which connect BABB to the existing financial systems, allowing for onboarding and offboarding of funds, particularly larger volumes.
Mobile Application
Via the BABB Mobile Application, anyone can quickly create a bank account as easily as "taking a selfie and humming a tune", with no ID document required to open a basic wallet. Upload one form of ID or get referred by
someone who is fully verified in the system to get access to your own basic bank account. BABB allows businesses and individuals to control their money anywhere, as long as they have an internet connection. BABB supports traditional banking functions such as transfers, payments, cash in/out, as well as other peer-to-peer transactions using smart contracts. In addition, users can generate income from their own money, by providing peer-to-peer services such as currency exchange and loans and earning a fee, just like banks do.
Black Card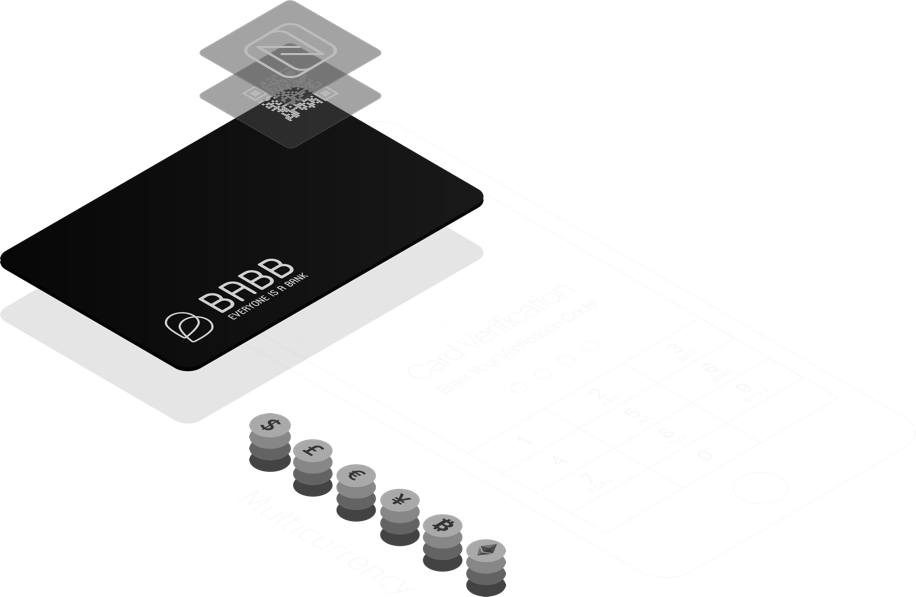 The BABB Black Card is a secure payment card that links directly with your BABB bank account via a QR code or NFC. It allows both a debit-like functionality, or it can be issued as a pre-paid card for your friends and family. This approach allowed us to design a simple yet elegant card with no need for a chip and pin. With the BABB Black Card you will be able to spend your funds within your BABB bank account in shops and in-person (peer-to-peer). Retailers can accept payment using the BABB card by simply downloading the BABB app and scanning the QR code or via NFC. Payment is made instantly into the retailer's bank account and the funds can be used immediately.
For more information, visit the WEBSITE or read the WHITEPAPER.