Dbrain – A blockchain platform to collectively build AI Apps
Dbrain is an open blockchain platform that links crowdworkers and data scientists enabling them to transform raw data into real-world AI solutions. Crowdworkers do simple tasks of data labelling and validation, and are paid instantly in cryptocurrency for their work. Data scientists use the resulting datasets to train Neural Networks (NN) and build AI apps. Businesses use existing AI solutions or specify new ones to serve their particular needs. Dbrain automates AI production and data workflow by providing efficient tools to all parties, including a web application, a Telegram bot, and a mobile app.

Blockchain technology helps us meet many of AI's current challenges. Using the blockchain, they can confidently manage high-quality data labelling, security concerns, intellectual property rights, and international micropayments. Using existing commercial computation infrastructure allows us to build an affordable, scalable toolkit for developing, integrating, and deploying AI apps. They use blockchain protocols and an in-house cryptocurrency to power the AI production cycle. The SPOCK protocol validates data label quality, ensuring the most accurate datasets possible. The PICARD protocol ensures the security of confidential data and automatically manages relations and fair revenue distribution between stakeholders. Dbraincoin (DBR) is an ERC-20 cryptocurrency to exchange for work, datasets, and AI app usage.
Security and trust
 Sharing sensitive data with third parties, and even in-house developers, poses certain security risks. AI developers can replicate third-party software within a very short time when given access to someone else's data. Labeled data, rather than software, are the defensible barrier for many businesses. Data owners lose revenue when datasets are leaked to third parties. Dbrain protects data owners' interests and prevents leaks at all stages of AI app development. No matter who uploads data on the platform, the Protocol for Indirect Controlled Access to Repository Data (PICARD) protects datasets and AI apps hosted on the platform. It also allows data scientists to train AI models using datasets without downloading them, and to sell AI solutions to business clients later on. The protocol guarantees security and trust in the Dbrain community with regards to data access control and reward distribution.
Web application

 The Dbrain web application integrated with Ethereum (DApp) provides an intuitive tool for data labeling and validation tasks for crowdworkers. The complex user interface allows crowdworkers to perform advanced tasks, such as image labeling for classification and regression, object annotation with bounding boxes and segmentation masks.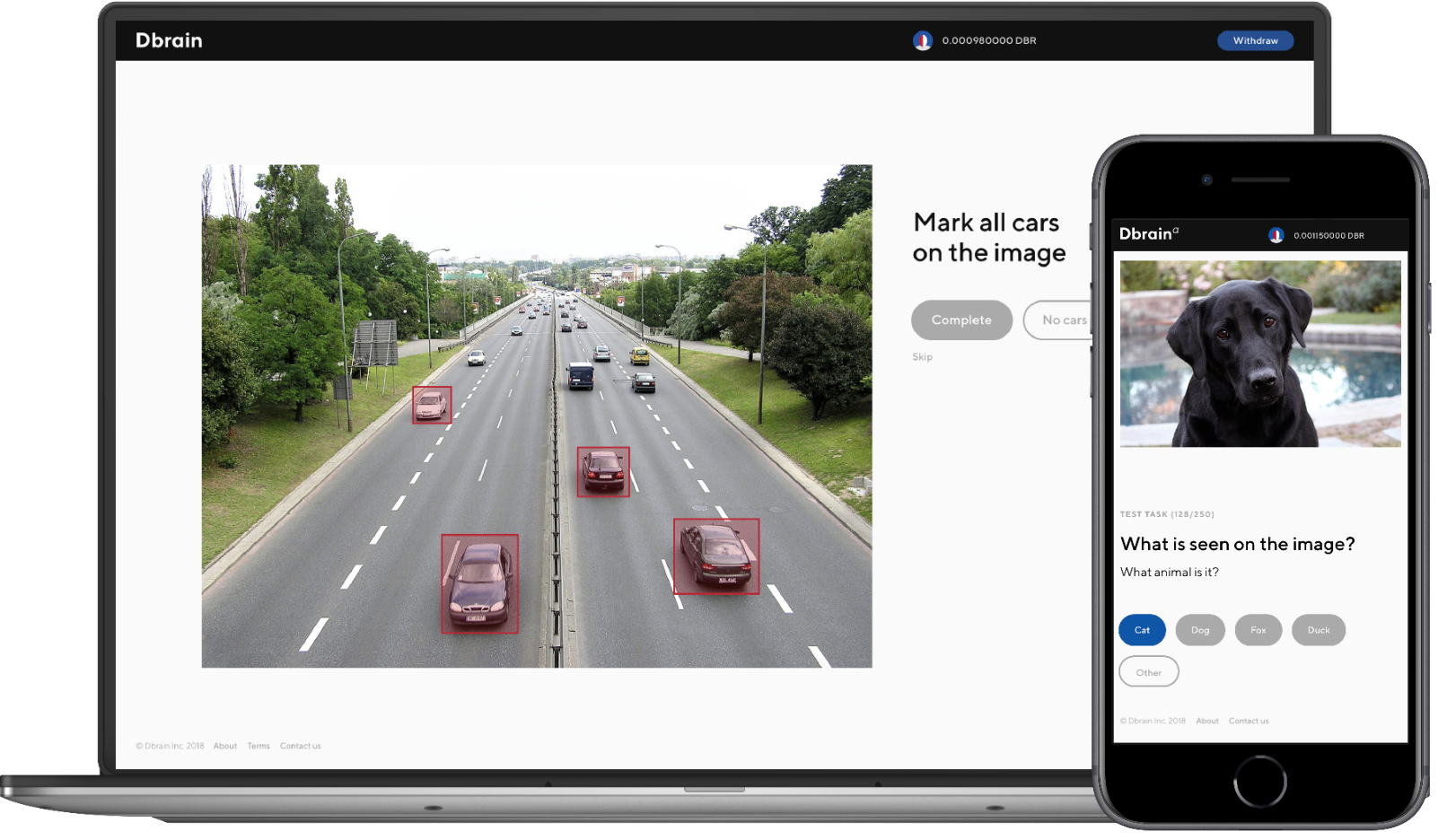 The Dbrain platform provides a scalable and accessible infrastructure to supercharge businesses with high quality AI, integrated via a convenient API. They offer a wide range of turnkey and custom AI solutions, integration, and customization for their clients' particular needs. Static image recognition, video surveillance and action detection, medical data processing, and content analysis of text streams, which currently lack working solutions would benefit from business-ready AI solutions. These areas account for almost half of the future AI market; they are their target.The Dbrain team launched a successful AI application for content creation in e-commerce in 2016. They reduced the cost of processing one image from 10-100 US cents to a fraction of a penny by using a deep learning network, thus saving millions of dollars for one of the biggest e-commerce marketplaces. While the system involves human supervisors, AI does most of the work. They see an opportunity to reduce costs further and scale up to multiple new applications by moving to a decentralized platform.
---
For more information, visit the Website or read the Whitepaper.