NOIZ – an AI-enabled, decentralized ad exchange platform based on the blockchain
NOIZ is an AI-enabled, decentralized ad exchange platform based on the blockchain. It provides data transparency and solves the problem of ad fraud by using a Proof of Engagement concept that validates user data. NOIZ also gives consumers control of their data privacy so they're constantly aware of what information is shared through the ad exchange network. Facebook's Cambridge Analytica scandal was just an example where profiles of 50M people were stolen and profiled for tip elections in 30+ countries. Consumers are also subjected to irrelevant ads – Upto 46% consumers agree that the ads they look at maybe irrelevant. All parties involved are connected to social impact projects, thus improving the communities in which consumers and brands exists. Hotmob, a native ad distribution platform for mobile users, is serving 1M impressions on a daily basis, which will support in distributing NOIZ to the consumers.
NOIZ Solution
NOIZ is an AI-enabled, decentralized cognitive advertising network using blockchain to:
1. Fight back against click fraud (for advertisers)
Incentive principle: NOIZ uses two methods for increasing customer engagement. First is to create a dynamic conversation dialogue for the customers to directly engage with advertisers. Second, is to offer incentives to customers in order to drive direct conversions or sales.
2. Bring transparency to digital advertising (for advertisers and publishers)
NOIZ facilitates a peer to peer ad network where advertisers and publishers know who they're dealing with. They know their past advertising / publishing performance and the level of fraud present throughout transactions. All information is recorded over an immutable blockchain.
3. Prevent data leakage (for consumers and publishers)
NOIZ allows advertisers and publishers to accurately and honestly collect and share consumer data via a permission based blockchain while providing consumers the opportunity to control which personal information they share with advertisers and publishers.
4. Empower community and add accountability to advertising model (for consumers)
NOIZ platform will let consumers form consensus for or against advertisers, publishers and social impact organizations that they [consumers] like or dislike; thus, preventing low ranking advertisers, publishers and social impact organizations from using the NOIZ network further.
5. Bring accountability to Corporate Social Responsibility activities (for advertisers and consumers)
NOIZ will also empower advertisers to automatically engage with CSR activities and donate a portion of their advertising budgets to CSR campaigns, while the consumer community holds the beneficiaries—social impact organizations—accountable for powering those CSR activities (explained in later sections).
HOW NOIZ WORKS
The NOIZ ecosystem uses the NOIZ Token. This will facilitate all the advertising campaigns and smart contract creation while also operating as coupons, airdropped by the advertisers and publishers to consumers.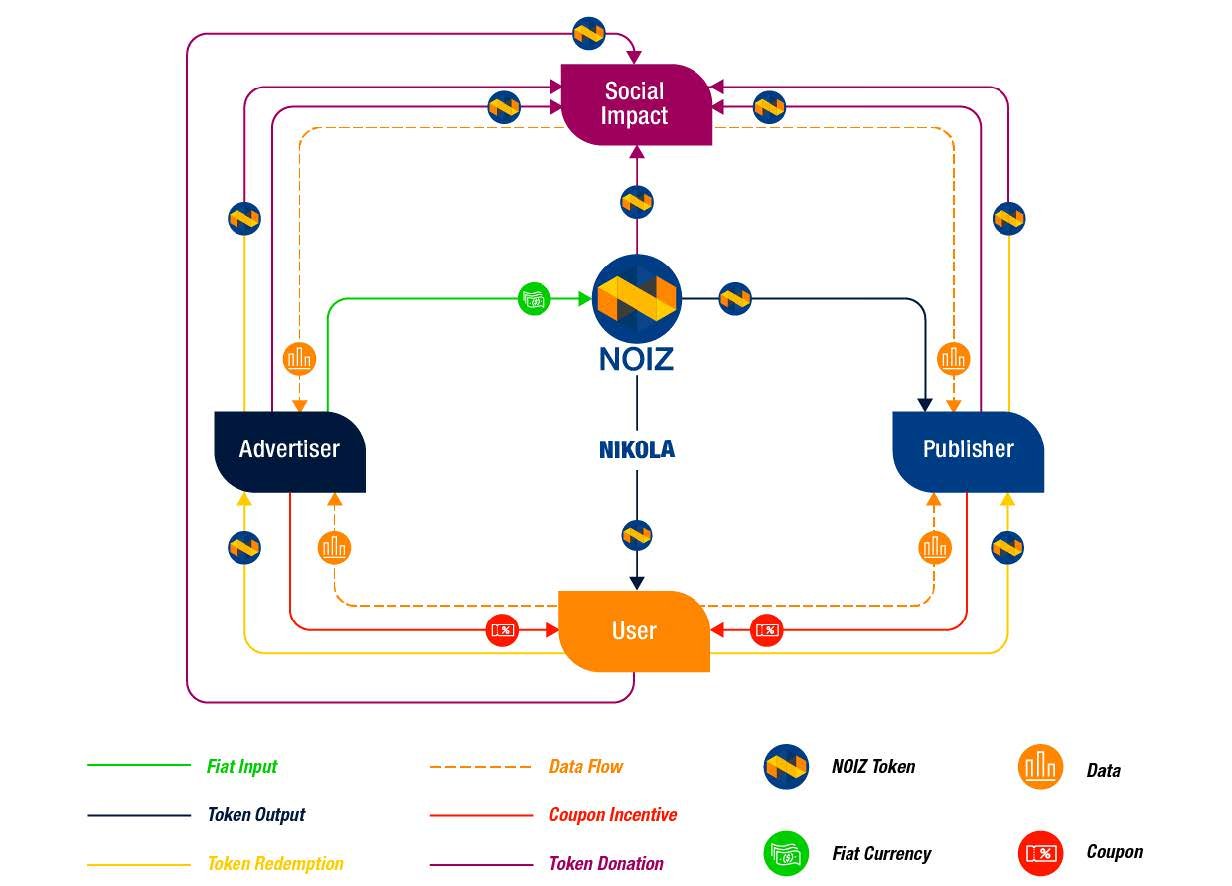 NOIZ Ad Network Platform
A traditional ad exchange is a centralized digital marketplace that enables advertisers and publishers to buy and sell advertising space, often through a real-time bidding (RTB) algorithm. They are most often used to sell display, video and mobile ad inventory. The NOIZ ad network allows advertisers to directly buy ad inventories from a variety of publishers. Advertisers will set up their auction ad campaign from the advertiser dashboard by selecting their targeting criteria and ad preferences. All ad campaign requests will be sent to the publisher dashboard, where they will await authorization by the publisher.
---
For more information, visit the Website or read the Whitepaper.